Exotic Dubai Tours & Safaris
Tours, Hotel Reservations, Conferences & Incentives
We are fully open now for you
Book your desert safari with us
We will pick you up from any hotel in Dubai or Sharjah take you for dune bashing and than to our camp where you will have BBQ dinner with Arabian Belly dance
Cost US$ 55.00 per person
Book Now!
Call us at +92-321-2424778
Dubai Desert Safaris in Pictures
We start with smaller dunes driving carefully to give you just a feeling of the safari
We drive on the sides of dunes blowing the sands with our wheels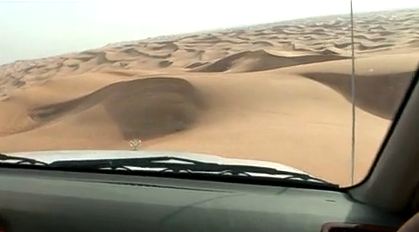 You will see endless dunes from your car
Now we head for higher dunes
The fines san is blown over the car
An uphill ride which will later dive into the depth of dune
Blowing sand behind
Book your desert safari with us
We will pick you up from any hotel in Dubai or Sharjah take you for dune bashing and than to our camp where you will have BBQ dinner with Arabian Belly dance
Cost US$ 55.00 per person
Book Now!
Call us at [an error occurred while processing this directive]
In the mille of desert "take noting but pictures and leave nothing but wheel marks"
Diving in the and
Dune after dune you ride the roller coaster
Fine sand making abstract images
Drive with speed over the find dry sands of Arabia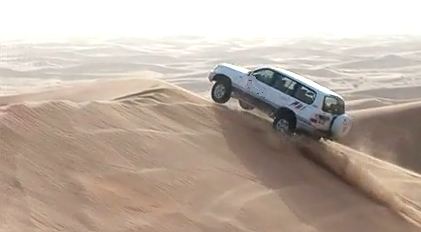 Flying over the dune
We leave the desert with our marks
More details about Dubai Desert Safari
We pick you up from you hotel or residence be it any where in Sharjah Dubai or Ajman at about 3:45PM, drive to sand dunes a thrilling experience in the sandy Arabian desert.
After the Dune bashing we will bring you to the desert camp where you will have an excellent dinner which is followed by an entertaining belly dance and music. Also ride camels at camp or have a tattoo of henna on your hands or arms or try out the Arabian outfit and thrill yourself by trying the sand skating all inclusive in the price.
We will assemble you at about 9PM and bring you back to your respective residence or hotel.
Cost : Dhs 190.00 or US$ 55.00 Per person and Dhs 130.00 or US$ 29.00 per child Including pickup Drop, Desert Safari, Dinner with belly dance, Sand surfing, camel rides henna painting try Arabian costume and enjoy Shisha All inclusive except alcoholic beverages which you can purchase your self at the camp
Call us at +92-321-2424778 for special deals and booking your safari Now
The cost of the tour Inclusive of all Pickup from your place of stay and drop back, Dune safari Dinner dance soft drinks tea coffee is US$ 55.00 Per person and US$ 40 Per Child.
Cost does not Include alcoholic drinks which are available at extra cost.
---
Advertisement
Advertise on this site click for advertising rates

Daily Desert Safaris
Enjoy the spirit of the Arabian desert Dune bashing in the sand and entertained by Belly dance over Dinner US.00 Per person
More details and booking